Lights, Camera, Action: Geneva High School Presents "A Midsummer's Night Dream"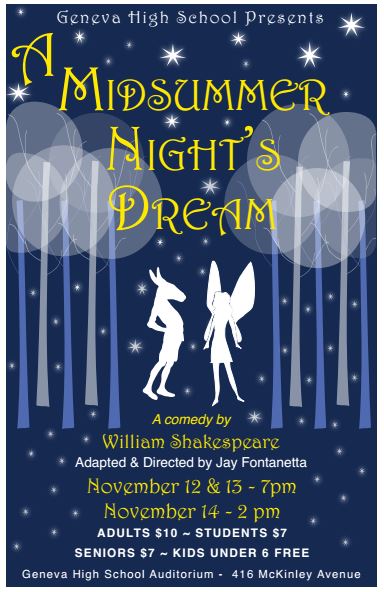 The Geneva High School Theater program is more than excited to perform this years' fall play, "A Midsummer's Night Dream," after all their dedicated, hard work. As well as the students, director Jay Fontanetta has put in countless hours as this is his first show he is directing here at GHS. Their show opens this weekend, November 12th, and the cast and crew would love for everyone to come see what they have accomplished!
"A Midsummer's Night Dream" is a Shakespearean comedy about four Athenians who run away to the forest (2 men and 2 women) after a disagreement over and arranged marriage. It so happens that in the forest, they run into Puck, a fairy who makes both men fall in love with the same girl. While the four spend their time in the forest pursuing each other, Puck helps his master, the King of the fairies, play a trick on the Queen.
Between reckless fairies playing tricks, mechanicals turned donkeys, and young lovers on the run, "A Midsummers Night Dream" is a remarkable work that makes you grin and laugh. The theater department is more than ready to kick their performance into full gear including Jay Fontanetta. Besides directing his first show here, this is Fontanetta's first year teaching English at GHS.
"I'm very excited for the show," Fontanetta said. "The cast and crew have been doing a great job. I'm stoked to see my first show here at Geneva come to life. And I'm a total Shakespeare-o-phile so I'm always ready to sit through it again."
Fontanetta has directed many shows in the past before GHS, and he finds himself always coming back to direct more Shakespeare. He knew it was time for Geneva to show their Shakespearean talent.
"When I realized that it's been a while since GHS has done Shakespeare, I thought it was time to produce one of his works," he said. "While I initially thought about doing Romeo and Juliet, the COVID mandates would make stage kissing impossible, so I opted for my favorite of his comedies instead."
Students are nervous for their performance but thrilled to put on this show with their new director. Junior Charlie Cervenka plays Snout, a mechanical, and they have enjoyed working with their new director.
"I really like the show this year because there are a ton of people in the show who I have never met or done a show with including our director," Cervenka said.
Both the students and director have put countless hours into bringing this show to life. Between rehearsals, tech, set building, and studying lines at home, the theater members have been very busy this past month.
"We started the process of rehearsing the show and building the set towards the end of September," Fontanetta said. "All in, it'll be about a 7-week process."
"We have put about 60 hours into our show over the last 5-to-6 weeks," Cervenka said. "It has been so much to juggle."
Although for the cast and crew it may be challenging, it is all worth it in the end.
"I am feeling really good about the show," they said. "Everyone has put so much effort into this and I think it is really going to show!"
Both students and staff are feeling confident for their upcoming show even with someone new in charge. Fontanetta understands that it may be challenging to have change but adapting is the best thing students can do in this situation.
"There's always a period of adjustment with new people in charge," he said. "I do things differently than the person who was here before me and that person did things differently than the person before them. In the end, I always have a distinct vision I want from each show I direct and I'm looking for students to trust that vision and take the journey with me."
Mr. Fontanetta and his cast are prepared and thrilled for their upcoming performance. Whether new to the program or not, the GHS theater department worked together to put together this amazing show and everyone should come out to see it!