ISIS Leader Killed in American Attack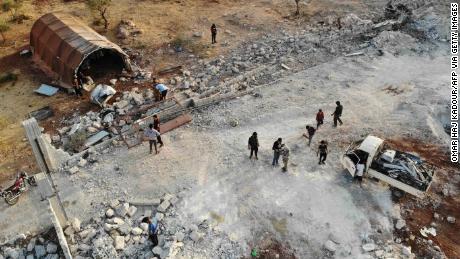 After years of international terrorism, attacks on civilians, and searching in vain to track him down, the leader of ISIS has been found and killed in remote Northwestern Syria.
Last Saturday evening, U.S. special forces landed in Syria, acting on a tip that ISIS leader Abu Bakr al-Baghdadi, considered to be the most wanted terrorist in the world, was hiding out in a compound nearby. According to The New York Times, the tip came from one of al-Baghdadi's wives when she was arrested "many months ago".
In a two-hour raid, U.S. special forces cornered al-Baghdadi where he then blew himself up, as well as three of his children, in a dead-end tunnel where he was cornered. There was only one American casualty in the attack: a military dog who was injured in the raid but is expected to make a full recovery. The dog's identity has since been revealed as a military dog named Conan, who is being hailed as a hero and has been invited to the White House.
Also captured in the raid were 11 of al-Baghdadi's children and two ISIS fighters. Two of his wives were killed by U.S. soldiers but their suicide vests remained undetonated. President Trump tweeted that, while clearing the compound, U.S. soldiers also killed "a large number" of ISIS fighters while exchanging gunfire.
US Defense Secretary Mark Esper has called al-Baghdadi's death a "devastating blow for the remnants of ISIS," which has been weakened greatly in recent years due to U.S. and Iraqi raids.
It remains unknown whether ISIS had a set successor to take over the group after al-Baghdadi took over the group in 2010. Back in 2014, al-Baghdadi declared an Islamic caliphate in Iraq and Syria, citing himself as a political-religious successor to the Islamic prophet Muhammad and a leader of the entire Islamic world.
The death of Abu Bakr al-Baghdadi is considered to be the most significant announcement of the death of a terrorist leader since Osama Bin Laden was killed in 2011.