Despite claiming victory early, President Trump loses lead against Biden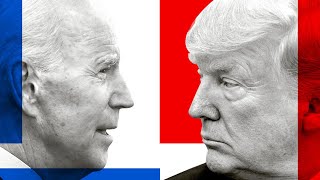 On Tuesday, Americans went to bed with no idea who the president of the next four years would be. On Wednesday and Thursday night, the same. But when waking up on Friday, three days after election day, it finally became a little clearer on what the outcome of the 2020 presidential election could be.
While there is yet to be an official winner of the election, former Vice President Biden remains in the lead in the Electoral College with 253 votes, with President Trump holding 214. It is expected that at least a few of the six remaining states will have final results within the next 48 hours.
Here's how the remaining states stack up right now (AS OF 11/6/20, 1:45 PM):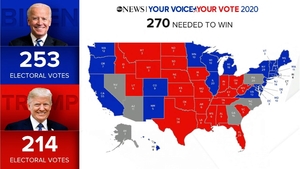 Alaska (3): Trump leads by 28.6% / 54,610 votes with 50% reporting
Arizona (11): Biden leads by 1.3% / 41,302 votes with 90% reporting
Georgia (16): Biden leads by 0.1% / 1,563 votes with 99% reporting
Nevada (6): Biden leads by 1.6% / 20,137 votes with 87% reporting
North Carolina (15): Trump leads by 1.4% / 76,701 votes with 94% reporting
Pennsylvania (20): Biden leads by 0.2% / 13,673 votes with 98% reporting
In a year full of firsts and abnormalities, it's come to no surprise to most Americans that this election would be one for the history books, due to the divisiveness of the country, the issues on the table, and the nature of the election. In the midst of a global pandemic, the 2020 election went on as planned, albeit with some changes into how the voting process would occur.
The biggest effect on this election cycle is by far the influx of mail-in and absentee voting. While President Trump oftentimes spoke out against voting by mail, a record number of Americans chose to vote by mail this election, which has ultimately impacted the time it has taken for each state's results to come out. Each state has its own set of rules and regulations when it comes to voting by mail, which has provided an extra layer of difficulty in key battleground states and has prolonged this election.
When Americans finally went to bed on Tuesday, things were looking grim for former Vice President Joe Biden. Of the states remaining to be called—Nevada, Arizona, Alaska, Hawaii, Michigan, Wisconsin, North Carolina, Georgia, and Pennsylvania—Biden was only leading in Arizona and Hawaii. Fox News, in a shocking twist, called Arizona for Biden early in the night, but at this time Arizona has yet to be called by any other news sites except for the Associated Press.
However, as mail-in votes began to be counted on Wednesday, the tides began to change and the race tightened, with Wisconsin and Michigan getting called for Biden later that afternoon. This momentum continued, and by Friday morning, Americans woke up to the surprise that Biden had closed the gap in every state except for North Carolina and Alaska, and had now taken the lead over incumbent Trump in Georgia and Pennsylvania, albeit by razor-thin margins.
This sudden surge in Biden votes has led President Trump and some Republicans to question the validity of mail-in voting; however, it is important to look back at what President Trump said about mail-in voting prior to the election. He urged supporters to vote in person as he did, and also told reporters at the end of October that mail-in voting is a "scam" and would be "a terrible time for this country".
As more results have come in, the Trump campaign has (so far) filed lawsuits in Pennsylvania, Georgia, and Michigan to try to block the counting of mail-in ballots, claiming voter fraud. All lawsuits have been struck down by state courts, citing that there is no evidence to the point that any voter fraud has occurred at any vote counting facility. Additionally, the President has also requested a recount of votes in Wisconsin after Biden narrowly won the state on Wednesday.
Though it's taken three days to get here, it's safe to say now that the election's end is in sight as the final votes are getting counted in the remaining states. While there remains no formal winner, it's also safe to say that, unless the tide changes dramatically for President Trump, America will be seeing a change in power in January. But in true 2020 fashion, anything is possible.