Drones in the Restaurant Business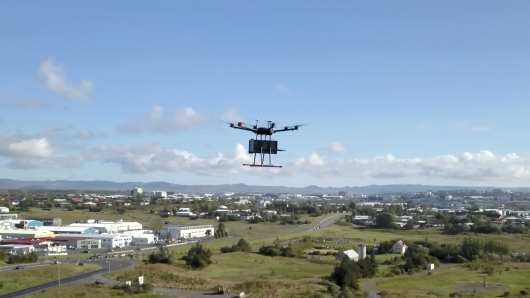 Ideas once thought of as absurd are becoming reality all around the world, and day by day it seems as though we live in a futuristic world previously only seen in science fiction novels.  One such appearance is the use of drones in the business world– specifically, restaurants. The market for the two types of drones used for delivery is only expected to grow, especially in North America.  Plus, big-name delivery companies such as Amazon and UPS already use delivery drones heavily, and restaurants are beginning to follow suit.
Drones are being used by restaurants all over the world, in both heavily populated and sparse areas as Singapore and Iceland.  In Iceland, drones have become very common, ever since the country launched the world's first drone-delivery service. It is a joint program between Iceland's top online marketplace, known as AHA, and the tech firm Flytrex.  These drones carry food orders from various restaurants to customers in Reykjavik, the country's capital. Plus, the Icelandic Transport Authority recently expanded the approved delivery zone so that people living in areas outside of the capital city can benefit from the program as well, showing just how much the interest in these businesses has increased.
Singapore is getting in on drones in the restaurant business as well.  In 2015, a restaurant chain in Singapore began to use drones to deliver food to a wait station near where customers sat in the restaurant. From there, a waiter would bring the food to the table, instead of the drone finishing the task, to preserve a human touch.  Plus, the drones are there to assist the waiters instead of completely taking over their jobs, according to the company behind this initiative, Infinium Robotics. Their chief executive, Junyang Woon, claims that a benefit of using drones in restaurants is that drones have the ability to fly above congested areas, while humans do not.  Coupled with the drones' built in sense and avoid technology, drone usage creates a much faster and smoother-sailing service experience.
Flytrex, the technology firm involved in Iceland's drone program, is also beginning a program in the United States in Raleigh, North Carolina.  Another company, Flirtey, created a startup to participate in the drone business, seeing the opportunity to use them in the health sector to deliver medicine to communities in rural areas.  Their CEO Matt Sweeny explained that "We intend to save lives using drone delivery. One Flirtey delivery drone will save at least one life every two weeks based on historical cardiac arrest data."  As these companies begin to introduce drones to North American businesses, the North American drone market is expected to have the highest growth as a result. It is expected to have higher productions and more applications of delivery drones than other regions.  However, these companies face serious obstacles getting in the way of incorporating drones into business. Because drones are so small, they have very low weight limits (in addition to other restrictions by the FAA), and they are also noisy, which would be disruptive in a traditional restaurant setting.  Plus, they are easy to hack, which poses a security threat to these businesses and their patrons. There are also many other other logistical challenges including poor infrastructure and complicated landscapes, and the limited range of delivery drones restrains the market growth as well.
The spread of drone usage by businesses across the globe, even to the United States, may get many people excited about the future of their favorite restaurant.  Although these shiny, new robots seemingly have a lot to offer to restaurant businesses, this new era of delivery will not come without risks or without the potential loss of the special touch that makes restaurants "human".