Pro-Life, not pro-ana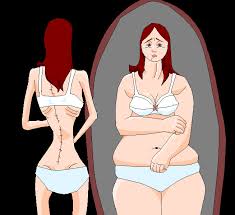 Hang on for a minute...we're trying to find some more stories you might like.
Horrible influences are infesting social networks and daily life of one of the most vulnerable groups of people; they are creations of mental destruction and vile infrastructure. These influences are called "Pro-Ana" propaganda. Anything from blogs, websites, or photos show off the "thinspiration of being anorexic" by showing images of nearly dead girls in underwear and sayings like "I love you to the bones".
These networks and social media blogs, some named Starving for Perfection, 2b-thin, and Totally in Control, advocate for the opposite of recovery. They influence people to engage in eating disorder behaviors, like starve and purge.
The Social Issues Research Centre says "Pro-ana sites are emphatically not for those who are in recovery, regard themselves as victims, or even regard themselves as ill. They are targeted at those who "believe that the Ana way is the only way to live", who feel that anorexia is the right lifestyle choice for them, and will allow them to achieve happiness and perfection." This causes people who already have eating disorders to not choose recovery and choose suffering over health.
Statistically eating disorders are more common in young women than in young men or adults, but that is because these websites target young women the most. These websites disturb the daily life of teenage girls, with pictures of what "beauty" is. Laura Jaramillo, a clinical eating disorder therapist, says that "we see many girls come in here who are stuck on their phones, and when they finally choose recovery, they tell us. They tell us that they either have or follow at least one 'pro-Ana' blog. The patients almost can not wait to delete them because the competition is exhausting."
Even though some people might be viewing these websites substantially for weight loss methods, that is still considered disordered. Anyone who would go to the degree of starving or purging is considered disordered, even though they may not look like the "average anorexic".
National Association of Anorexia Nervosa and Associated Disorders (ANAD), says that 6 percent of people with eating disorders will eventually die from the disease. Maddy Jeskey, a high school senior,   says, "I remember seeing you (Natalie) close to death, and it had been awhile since you left. I was so worried that you were going to die because you looked so sick." What is so beautiful about looking like death?
Pro-Ana blogs feed the competition between disordered people, which can result in hospitalization or even death. Having public access to these potential triggers is a dangerous obstacle to face when trying to choose between recovery or an eating disorder.