The PSAT, what's the point?
Hang on for a minute...we're trying to find some more stories you might like.
On Wednesday, October 14 many of Geneva's sophomores and juniors took the PSAT along with thousands of other students throughout the nation. However, even though these students devoted several hours of their time to taking the test, not many are completely sure of what the test is for.
The PSAT stands for Preliminary SAT, it contains very similar questions to the actual SAT and the scores can be a good indicator of how a student will score on the test. When a student receives their scores after taking the PSAT, in addition to an overall score they are given sub scores for each individual section to identify their problem areas and give them an idea of what they need to study when preparing for the SAT.
However, arguably the most important reason for taking the PSAT is to attempt to qualify for the National Merit Scholarship Program. The 50,000 students with the highest scores on the PSAT are considered for a $2,500 scholarship. Students who are semifinalists for the scholarship have to write a letter about themselves, keep their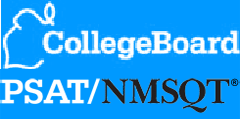 grades up, receive a high score on the SAT, and obtain letters of recommendation.
Students' scores on the PSAT are not shown to colleges and do not affect eventual admission, however the PSAT can be beneficial to students when it comes to getting into college. If a student allows themselves to be a part of the "student search service" colleges can find and contact them which can lead to a good relationship with a university when it comes time to apply or even possible scholarships.
The Princeton Review advises students, "While you shouldn't stress out about the PSAT, you certainly shouldn't ignore it either. Instead, use the PSAT as both practice for the SAT and ACT and one of the starting points on your college admissions journey."