Geneva restaurant creates friction in community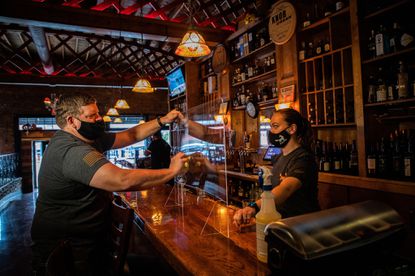 With Illinois cases at the highest they have ever reached, Governor Pritzker was forced to place more mitigations in order to protect all people of Illinois from the deadly virus.  In the last month alone, Illinois has reported nearly 268,000 new coronavirus cases, and the death toll has risen substantially.  Pritzker, having already faced a lot of backlash throughout the course of the pandemic as a result of the many steps he has taken to prevent even more deaths in his state, could not hold off placing any more mitigations and, finally, Illinois decided to close all indoor bar and restaurant services for all eleven regions.  Restaurants, already suffering financially from the decrease in customers, took an even greater hit with the return to only outdoor dining, especially in the fall months in which most people would refuse to eat in the cold. 
Though many Geneva restaurants agreed to Pritzker's new mitigations, many others refused to accept his decision.  Geneva restaurant Fox Fire is one of the most prominent in this fight against Pritzker.  Having opened on State Street back in 2003, the restaurant argues that they are a "key asset to the community", and thus believe that they should be exempt from closing their indoor service.  On October 23rd, FoxFire filed suit against Pritzker's executive order and was granted a temporary restraining order by Kane County Judge Kevin Busch, claiming that the governor has no authority to enforce his mitigations.  Shortly after this ruling, the Illinois Second District Appellate Court dissolved the restraining order as Governor Pritzker does, in fact, have the authority to "issue successive disaster proclamations stemming from one, ongoing disaster" and declared that Judge Busch abused his discretion.
Greg Earl, who is currently representing FoxFire in their lawsuit, has decided to file an appeal and take the case to the Illinois Supreme Court.  Refusing to close their indoor dining, FoxFire instead took measures into their own hands by purchasing "two, state of the art medical grade Air Purifiers" that they claim remove 98.8% of particles from the air.  Many customers of FoxFire are pleased with their "efforts" in regard to the purchase of the air purifiers and believe that the governor is "unfair".  Additionally, one of the owners of FoxFire who is part of their father and son team has created a GoFundMe page to raise money for their legal battle.  As of November 25th, 2020, the GoFundMe had already raised $9,710 of their $60,000 goal.  The support for Fox Fire is clear with their GoFundMe page receiving donations from 63 different people with a top donation of $5,000. 
Fox Fire's customers who have continued to dine at the restaurant seem to unite in their distaste for Governor Pritzker and their support for the restaurant staying open.  Despite the region's positivity rate being about 14.5% and the number of ICU beds falling under 20%, which indicates a danger zone, many people remain infuriated with Pritzker's rulings.  One customer alludes to Pritzker, describing him as a "tyrannical hypocrite", another as an "embarrassment".  The few comments that are in disagreement with Fox Fire's decisions appear to be immediately deleted from any of the company's social media pages.
Despite Fox Fire's decision to stay open for indoor dining regardless of the drastic increase in cases, hospitalizations, deaths, and the toll on all healthcare workers, numerous Geneva restaurants are taking precautions and responding in creative manners.  People that wish to find ways to dine outdoors in the cold can choose from a plethora of restaurants such as both Aurelio's Pizza and Bien Trucha on State Street which have added heated, outdoor eating pods that are sanitized between each use and well ventilated.  These outdoor pods are a creative way to ensure people remain safe during the pandemic but can still enjoy their restaurant experience.  Other restaurants that have also ceased their indoor dining to focus on a heated outdoor experience include both Gia Mia and Livia on Geneva's Third Street.  If people are still hesitant to dine at restaurants only offering outdoor dining, many Geneva restaurants are also focusing on curbside pickup and delivery services.  
One thing remains clear: even though Fox Fire refuses to accept  Governor Pritzker's mitigations put in place to protect the health of all, numerous Geneva restaurants deserve support for they are constantly adapting to ensure the safety and health of their customers while also listening to their government.