The Highly Anticipated 2023 Girl's Badminton Season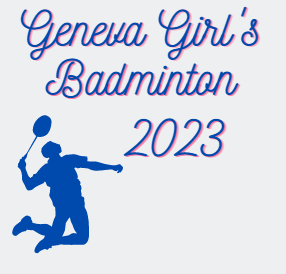 With spring just around the corner, many activities and clubs are getting ready to start up a new season. One of the many springs sports prepping for a new season is girl's badminton. The girl's badminton team won conference last year and both the coaches and players are hoping for another great season.
"I am hoping to go to State as a singles player," Senior Lina Perry said. "Getting in as a doubles team would be tough, but if possible, it would be exciting,"
The girls aren't the only ones with big goals for the upcoming season. The coaches are also hoping for another phenomenal season.
"I think preparing the girls for moving up a level to the varsity is one goal," JV coach Mr. Fischer said. "We have a number of seniors this year that are going to graduate. Trying to prepare them to take that step up for next year to really compete for the conference title at the varsity level is a goal. I would love personally to have a shot at the conference title but for me my job is to prepare them for Coach Ross to qualify for state to win conference up there."
Senior Lina Perry has played badminton for all four years of high school. She emphasizes the importance of the team's bond and how they support one another.
"I am so excited to play with my teammates again," Perry said. "Although badminton may not be considered a team sport, we still win and lose together. We pick each other up when we're down, and we celebrate our wins together. It will be great to play again with these amazing people/athletes."
The coaches and players share enthusiasm for the upcoming season. They also share a strong connection to the sport as many of them have played for a long time.
"I was my high school and college intermural champion," Fischer said. "My wife was a former state qualifier for Stevenson high school. Our first date we played against each other. She did hit me. The very first shot she hit me right in the throat and went 0-1. I was like that's how were playing this."
Perry shared that she has been playing badminton for around seven years. Her family played a big role in her interest in the sport.
"My family was definitely responsible for my playing badminton," Perry said. "My mom played in high school and my cousin coaches the girls in DeKalb."
Although the season is full of amazing times and memories like any sport there are challenges.
"The biggest challenge I've had to overcome in badminton was learning to adjust my playing style to my opponents on the court," Perry said. "Almost everyone has a different way of playing that I need to see and alter my own playing to win!"
While the players face challenges on the court. The coaches face some challenges that hit a little closer to home.
"The hardest thing about being a coach is the time away from my family," Fischer said. "As a spring sport we have so many teams competing for court time until the weather turns nice so you could have practice at 5:00 AM you could have practice at 7:30 at night. There are days where I don't get to see my kids."
With the challenges also come big triumphs that create amazing memories. These memories remind everyone why they continue to play.
"My favorite memory has been winning sectionals," Fischer said. "I remember when our number two doubles team that wasn't supposed to win anything upset the number two seed and then upset the number three seed to make it to the final and made it to state. That kind of put us over the edge and that was a huge day for us."
For Perry this upcoming season is bittersweet because it wraps up years of memories and hard work. When asked to describe her badminton experience three words came to mind.
"Unforgettable, gratifying, lively," Perry said.