Living La Vida Poppy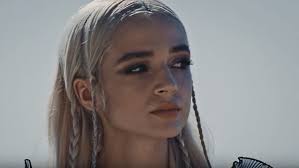 Maybe you've seen videos of her. Maybe not. She's blonde, she's short, and she's captivated the Internet. Poppy, nee That Poppy, is a shrill enigma that appeared from virtually nowhere and has confused and entertained us for six years now.
Usually one can see Poppy in pastel pinks, blues, and yellows, doe eyes pointed up at a camera as she whispers things like "I'm Poppy!" over and over. But, once 2019 came, the high-pitched voice and creepy antics disappeared. Suddenly, Poppy went from making sweet pop confections to dark, heavy, meaning-laden metal with imagery to match.
To understand her evolution, we must take a look at Poppy's origin. Until 2019, she was a constant collaborator with Titanic Sinclair, a prolific musician and visual artist. Before working with Poppy, he worked with Mars Argo, another squeaky-voiced blonde ingenue. The two of them shared a romantic relationship before a seemingly catastrophic breakup, of which Sinclair speaks none of. Afterwards, Sinclair found his new vessel to stardom in Moriah Pereira, who we know as Poppy.
Sinclair and Poppy made videos, riding along YouTube's underbelly until she released Bubblebath, a four-song EP filled to the brim with sweet lyrics, catchy hooks, and more… Poppy! Two years after that, Poppy.Computer was introduced to the world, a lineup of instantly loveable songs like "Software Upgrade", "Bleach Blonde Baby", and "That's My Style", which features Charlotte, a talking mannequin (don't question it). Poppy.Computer focuses on one of the Internet's favorite talking points about Poppy: her anonymity. Who is Poppy, anyways? The hook of "That's My Style" gives us an answer: "Poppy is an object. Poppy is your best friend. Poppy will break your neck. Poppy will be your pet." She's everything and nothing at the same time, an easily-moldable shell to play around with, probably harking back to Sinclair and Mars Argo, who in the same year filed a copyright suit against the two for "stealing Argo's intellectual property," including the character herself. The seemingly innocuous look at her identity is one of many subtle jabs Poppy makes at her creator, which come further and further into the limelight as her popularity grew.
Am I A Girl?, Poppy's second full-length album, takes the question of identity and puts it on trial. With the titular single "Am I A Girl?", she asks herself about the concept of gender as an Internet sensation. Though many other songs on the album sound irreverent, they take deep looks at femininity and stardom. Girls in Bikinis sounds like a disco-filled, funky romp about girls roller skating in the atmosphere, but it's a clear jab at the masculine eye. Rapture Ball is about the suffocating nature of being a celebrity. All throughout the album, though, there are hints at what's to come sound-wise.
A year after Am I A Girl? Came out, Poppy made a shocking announcement. On her Twitter account, she told her followers that she'd parted ways with Titanic Sinclair, citing that used suicide baiting to manipulate her into keeping their relationship. "I was never "an accomplice" to this person's past actions like some believe," she said. "I was a person who suffered similar wrong doings [sic] as one of his former partners brought to light." At the end of her statement, she mentioned how she is "happier than [she] ever has been" and that she's  "Excited to move forward".
And move on she did. Twelve days later, Poppy released her third studio album, I Disagree. Though her fan-made wiki may tell you Sinclair was still a lead writer, it's obvious that her personality came out. Suddenly, her music is no longer bright, happy, and light. Now she's a full on metal star, complete with headbanging guitar and bass players, black latex, and screaming vocals. It's a show of complete creative and personal control, a break away from being the Internet's "pet".
Being a fan of Poppy for years, I was extremely surprised to see the change. However, surprise doesn't mean disgust. I Disagree is an incredible album, a symphony of hurt feelings and self-actualization. "Concrete", the first track, is an odd mix of loud, punch-the-walls rock and high-pitched pop, going back to her roots but simultaneously attacking who she was forced to be. "Anything Like Me" is a rant against both Sinclair and his manipulation, which forced her into the role Mars Argo claimed they'd stolen from her. "Sit/Stay" ironically approaches the modern radio star's trouble dealing with record label executives. The entire album, Poppy says, is about "empowerment, not gender specific. Just empowerment."
Poppy's legacy is turbulent and confusing, but she's come out victorious. After watching her get hidden behind the shadow of Mars Argo and forced under the control of Sinclair, it's refreshing to see her take control of her own destiny. I give her latest album a 9.5 out of 10, and to anyone who says they don't like it, I'll say "I Disagree".