Caraval Book Review: A Discussion Between Al and Em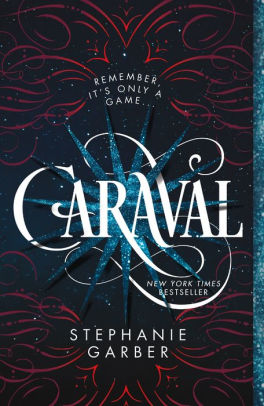 Al: Hey there GHS! This is Em & Al here to bring you a fantastic book update.
Em: This is one of our absolute favorites! I believe we've both read it a few times?
Al: Sounds about right! Anyway, let's jump right in with a few details about the book.
Em: It's called Caraval, and it was written by Stephanie Garber.
Al: Published in 2017, the sequels, Legendary and Finale, came out in 2018 and 2019.
Em: Yes, the whole series was amazing! But we're just here to talk about book one! Any thoughts?
Al: Well, for a quick synopsis, the book is about two sisters, Scarlet and Tella. Tella is obsessed with a magical traveling circus called Caraval, hence the name of the book. Every year for Tella's birthday, Scarlet writes letters to Legend, the mysterious ringmaster of the circus, asking him to come to her sister's birthday parties. He doesn't write back for years, but when he does, Scarlet and Tella are swept away on a fantastic journey filled with deceit, romance, and more mystery than can last a lifetime. You have to read it!
Em: Yes, Garber did a great job of balancing the amount of action and romance and mystery. It's the perfect blend!
Al: What did you think of Scarlet as a main character?
Em: It's always nice to have a strong female character who knows her worth. But we do find Scar questioning the loyalties of those around her many times.
Al: Yes, it creates quite a dramatic feel to the book.
Em: How do you think the romance balanced out the book?
Al: Well, it wouldn't be a YA book without a touch of romantic tension. And Garber hit the nail right on the head, with little glimpses of characters flirting, kisses on cheeks and handholding. It makes for a sweet love story within the darker novel.
Em: I agree with you! I won't say who ends up with who, but you will be smiling the whole time. A quick side note, the love story feels so real.
Al: Very much so! Switching gears to the more magical side of the story, magic is a main theme of Caraval.
Em: Yes! It's incredible how Garber managed to create her own system of magic with rules, and borders, it adds a surprisingly realistic feel to something so fictional.
Al: She does a great job making up her own world. As I writer, my own favorite pre-writing activity is world building, Stephanie Garber definetly did a good job.
Em: That she did! What would you say would be your favorite theme of the story?
Al: My favorite theme would have to be the mystery. Half the characters are hiding something. Whether it's big or small, everyone has a secret. Many characters feel unsteady and have to question their trust.
Em: Well, that about sums it up!
Al: Yes, thanks so much for taking the time to read our review!
Em: And P.S. Please read this book! You will not regret it!