The Counting Crows and the 25 Years and Counting Tour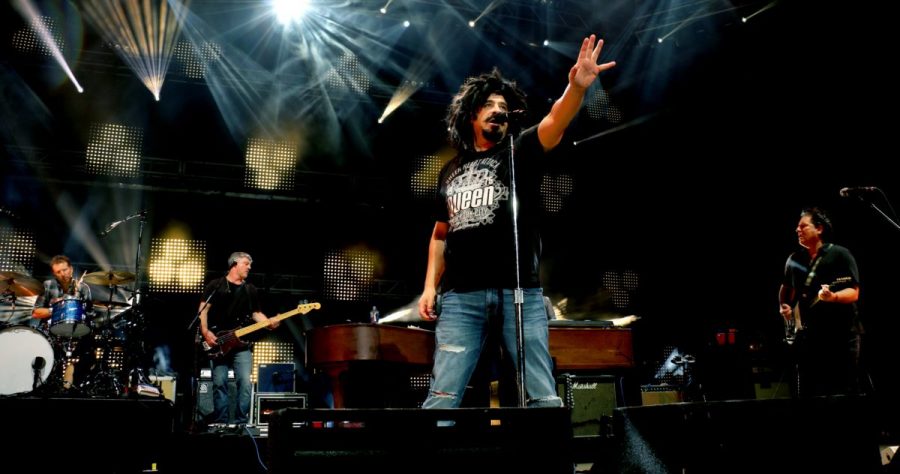 Ethan Bryant, Staff Writer
March 4, 2019
        Counting Crows emerged out of Berkley, California in 1993 with their debut album August and Everything After. The public received the album fantastically, with songs like "Round Here," "Omaha," "Murder of One," and "Mr. Jones" becoming hits for the band. The introverted lead singer, Adam Duritz, had a full on mental breakdown when the album exploded into success. After the album, the band continued producing music and went on to create six additional albums, eight tours, and continue to perform to this day on their 25 Years and Counting Tour. After August and Everything After, they continued to produce three more successful albums. Recovering the Satellites, This Desert Life, and Hard Candy, which garnered several hits for them including "Mrs. Potter's Lullaby," "A Long December," and "Big Yellow Taxi." But as of recent years, the band has been struggling to stay on the radar. Their Saturday Nights and Sunday Mornings and Underwater Sunshine (or What We Did on Our Summer Vacation) albums from 2008 and 2012, respectively, garnered them next to no publicity. The only hit off of those two albums was "When I Dream Of Michelangelo," from 2008's Saturday Nights and Sunday Mornings. But due to their most recent album, Somewhere Under Wonderland, from 2014, Counting Crows has been suddenly thrust back into the limelight.. The album scored two big hits for the band including Palisades Park and Scarecrow. They toured the album and sold out 39 shows, with incredible public praise.
As of right now, Counting Crows is traveling on their 25 Years and Counting Tour, where they play some of their biggest tracks and hits from the past 25 years. Something interesting about a Counting Crows show is that each song tells a unique story. It's always about something that impacted Adam Duritz, the band itself, or just the beauty of nature. The set for this most recent tour includes songs like "Round Here," "Holiday in Spain," "God of Ocean Tides," and more. But, with the performance of these songs, the band has recently begun to share the original stories and ideas behind their composition.
For example, one of the songs they performed, "God of Ocean Tides," was preceded by one of the artists' stories. Adam Duritz told us that one day, he was on a tour bus on the way to the next performance. Everybody else was asleep on the bus while he was awake, thinking about the ending of a very unhealthy relationship just a few weeks back. As they drove on, the bus crossed over a bridge where the water "glistened like moonbeams" in the morning light.  Duritz then pulled out his phone and sang the first verse of "God of Ocean Tides." "Close the door on a short night, lift the lid on the daylight, 6:09 West Tennessee time, and I buy all my days. At the same place where the girl sells her nights, to a God of ocean tides." His acoustic rendition of the song added to overall quality of the show. This rendition also showed the audience that not only could they tell stories, but that they could styles and tempos in an instant, adding to the quality and overall complexity of the show.
Another one of my favorite songs that the band performed was the song called "Round Here," which was an instant hit off their August and Everything After album, and reached #7 on the Billboard charts at its debut. Overall, most people felt that the song was a great opening track to the album and that it told them what Counting Crows was going to be: a band that told stories through their music. During their performance of the song, the band slowed down the song halfway through, and Adam Duritz told the audience about his inspiration for the song.. He said how, after performing in clubs around the San Francisco Bay, he would come home completely drunk, and that his house had a gas fireplace suspended by chains in midair. He said that, "It was the most dangerous, unsafe heating system I have ever seen. But for some reason, my drunk self found that so entertaining. And sometimes, at night when it was late, you could hear a train coming through. That combination of fire and train got me through the first part of my life." The group launched into the final verse of the song with added lyrics such as "As the whistle blows, the whistle fades." The song was more beautiful than ever, and the unique performance of "Round Here" was easily the highlight of my night.
As for the last song the band performed,"Holiday in Spain," covered important topics in American democracy such as equal voting, going out to vote, and actually caring about your government. This song became a protest in concert, with Adam Duritz calling out the American people on their inactivity and lethargy in their own democracy. If this country were to be a true democracy, then everybody must vote to be represented. But, he told the audience, that slowly and surely this country is becoming an oligarchy, a small group of wealthy and respectable people that care enough to vote. For a dramatic ending to the show, "Holiday in Spain" was a beautifully constructed ballad that topped off a fantastic concert.. Only in the past year have I become a fan of Counting Crows, but this helped to solidify them as one of favorite bands to see live, as well as a favorite band in general. With seven albums, this band is phenomenal to listen to, and has a large discography to start with.