Fresh off the Turntable: Glass Animals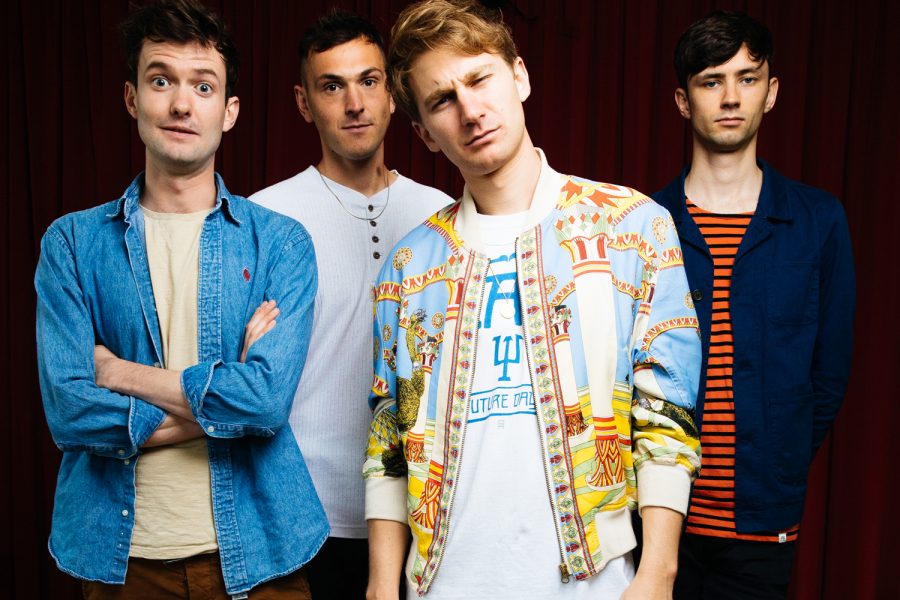 Glass Animals is an indie rock and psychedelic pop group that formed in Oxford in 2010, headed by lead vocalist Dave Bayley. They are most well known for "Gooey" and "Black Mamba" from their 2014 album ZABA, and "Life Itself" and "Pork Soda" from their 2016 album, How To Be A Human Being (HTBAHB). Nominated for a Mercury Prize in 2017 for their most recent album, Glass Animals has quickly risen the global ranks of indie music, and has toured more or less constantly since the release of ZABA.
Their first EP, Leaflings, released in 2012, featured four tracks, "Golden Antlers," "Cocoa Hooves," "Dust In Your Pocket," and "Cocoa Hooves, Pt. II." "Golden Antlers" is a strong opening track, using a combination of a strong, fast drumbeat and slow synth tones to emphasize the desperation and fear . "Cocoa Hooves," which would later appear as a slightly remixed and fleshed out version in 2014's ZABA, is a much more solemn entry to Glass Animals' first EP, focusing on the loss of a loved one, and the melancholic sadness left in their wake. The chorus emphasizes this in the lines "Come on you hermit, you never fight back, why don't you play with bows and arrows? Why don't you dance like, you're sick in your mind, why don't you set your wings on fire?" These questions are posed in the sense of a scorned lover, left by the wayside, asking either themselves or their former partner why they didn't fight for the relationship, and why they secluded themselves and "burned their wings" to keep others away. As a whole, Leaflings was a strong first glimpse at what Glass Animals would quickly become.
ZABA, released in 2014, was Glass Animals' first full LP, with several incredibly strong tracks, including but not limited to "Pools," "Black Mambo," "Gooey," and "Wyrd." Focusing on a tone that represents a dense and wild rainforest, ZABA, named after the children's story "The Zabajaba Jungle," allows for Dave Bayley and the band to truly explore the genre of psychedelic pop. "Pools," "Intruxx," and "Hazey" all include the use of jungle ambience and background noise to help convey a wild and unexplored sense to the album. "Pools," outside of its use of jungle ambience, uses a soft, but primitive drumbeat and varied guitar riffs to help the listener immerse themselves within a pool at the bottom of a waterfall. The dulcet tones of the song, along with the soft vocals, tell the story of a child of the jungle who becomes part of the land he once only resided within. "Gooey," opening quietly with a short, repeated synth melody and whispered vocals, tells the story of a couple, trying and failing to relax together, before the slow erosion of their relationship. "Wyrd," on the other hand, is aggressive from the beginning, with heavy drumbeats and aggressive guitar riffs, which portray the inevitable fate that is clued at in the song's title. "Wyrd" tells the story of a man running from his past and inevitable fate, while the singer represents the role of death, with the lines "So my friend our time is done, you and I could've had so much, sold your rope for the bucket, of lemon peels now suck it." ZABA as a whole allowed for Glass Animals to explore their wild side, and was their first global hit, with several songs ranking on US and UK rock and indie charts, and was a massive success for such a young band.
While difficult to compare, How To Be A Human Being, is Glass Animals greatest and most fleshed out album to date. Beautiful tracks like "Life Itself," "Youth," and "Agnes" portray the transience of life and age, while "The Other Side of Paradise," "Poplar St.," and "Take a Slice" analyze the pain and suffering of heartbreak and failed relationships. HTBAHB takes a somewhat new direction for Glass Animals, away from the wild tones of ZABA and Leaflings,  and showing a new side of the band. The format of HTBAHB is unique in that each song represents a person seen on the cover of the album, and tells their story through the eyes of a photographer who travels across the UK and US to try and capture the elusive phenomenon that is mundane life. "Life Itself," the opening track to the album, tells the story of an awkward 20-something boy who spends his days mooching off of his mother and playing with toys and games in his grandmother's basement. The repeated drum beats and mixed synth melodies heard throughout help to bring out the character's loss of direction and purpose within his own life. "Youth," the second track, is a solemn warning and hopeful message from a mother to her long lost son, helped by the lack of extraneous instrumentals, and the breaking down of music to its base components.  admits that she never felt she was enough for him, and wanted to let him be free to run, experience life, and mature without her to bog him down. While being outright depressing, this song is Glass Animals' first of several forays into the use of characters and stories that becomes so important throughout the album. "The Other Side of Paradise" is another strong usage of characters, told from the perspective of a girl left behind by her boyfriend, who becomes a famous basketball player and forgets her in the spotlight of fame and wealth gained from his career. The scorned tone of the former lover is emphasized by the heavy base beats just before and during each chorus, which contrasts with the lack of heavy instrumentals in the rest of the song. The best song on the album, and final song, is "Agnes" from the perspective of the photographer himself. "Agnes" explains why the photographer left his home, after the growing drug use and eventually overdose of his friend, who the song is named after. Desperate and whispered lyrics along with a noticeable lack of dynamic instrumentals help to show the photographer's pain and regret after her death. The two lines "You're gone but you're on my mind, I'm lost but I don't know why" are repeated for the entire second half of the song as Dave Bayley's voice cracks and strains from grief. This song is both a lyrical and instrumental masterpiece, demonstrating a myriad of emotions from grief and regret to hopefulness and nostalgia. As a whole, HTBAHB is an exemplary example of Glass Animals' ability to write and perform original works.
Sadly, during a tour in the summer of 2018, Glass Animals' drummer, Joe Seaward, was hit by a  while cycling in downtown Dublin. He has made a swift recovery since the July accident, though, and is making progress towards walking, speaking, and drumming once again. In a BBC interview in September of 2018, he mentioned that one thing he took away from his accident was that "trucks are extremely hard."