Classes Set to Resume Tuesday Following Five-Day Strike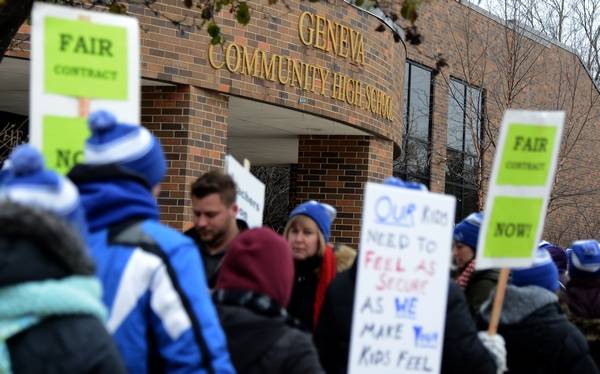 After months of nonstop negotiations between the Geneva Education Association (GEA) and the Geneva Board of Education (BOE), a tentative agreement has finally been reached and ratified, ending the five-day strike that has kept the district's 5,400 students out of class. The agreement comes following a week of meetings, picketing, rallies, and seemingly non-stop news coverage. 
The strike began following the meeting last Monday, December 3rd, where the negotiation teams for the GEA and the BOE met for a final attempt at preventing the looming strike. However, with the Board and the GEA both refusing to compromise during the 7 ½ hour session, the GEA announced a strike to begin the following day.  
For the rest of the week, the teachers picketed across town outside of Geneva's nine schools and students remained out of class. Initially, no negotiation sessions between the two parties were scheduled until the regularly scheduled Monday night meeting the following week. However, after pushing from the GEA and the community, a full negotiation meeting was scheduled for Thursday night. At the meeting, 'progress was made' between the two parties, but no tentative agreement was reached.  
Negotiations continued into the weekend with two meetings taking place; one on Friday night, and the other Sunday afternoon. The 12 hours of negotiations during the latter concluded Monday at 3:22 a.m. In a press release on the District 304 website, the GEA and the Board reached a new five-year collective bargaining agreement.  
On Monday, all GEA members met in the early afternoon to vote and ratify the tentative agreement. The District announced soon after that classes and all extracurricular activities would resume the following day at all schools, ending the week-long strike.  
At this time, it is unknown whether the days missed will be made up.