Fresh off the Turntable: CAKE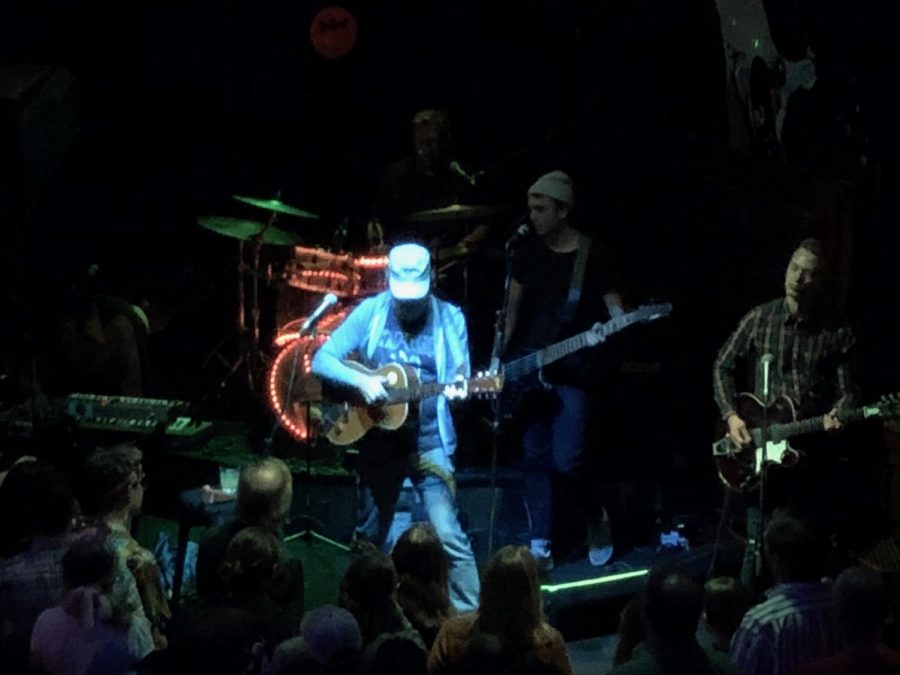 CAKE was formed in 1991 by John McCrea in Sacramento, California after he became fed up with the "coffeehouse circuit" of California. CAKE released their first album, Motorcade of Generosity, in 1994, after touring Southern California and amassing a small audience. The album received high praise from critics, and their first hit, "Rock 'n' Roll Lifestyle," reached 34th on the chart for "modern rock hits." Overall, Motorcade of Generosity is an incredibly strong debut album, and the biting tones of "Is This Love?," "Rock 'n' Roll Lifestyle" and "I Bombed Korea" contrasts well with the mild theming of "Ain't No Good" and "Comanche." But, the album is incredibly hit or miss, as the previously mentioned songs are contrasted with the less impressive "Jesus Wrote a Blank Check" and "Haze of Love." As with the rest of their music, CAKE integrates a variety of instruments throughout their music, such as the trumpet and the vibraslap.
CAKE's second album, Fashion Nugget, had a much wider release and gave the band a national stage, with their greatest hit, "The Distance." Fashion Nugget is often regarded as CAKE's greatest work, as there are few songs throughout the album that draw away from the primary theme, and all of the music fits together well, while every song also seems to contrast with one another. Personally, I grew up listening to Fashion Nugget, which obviously skews my opinion a bit, but this album has few weaknesses, with "Friend Is a Four Letter Word," "Perhaps, Perhaps, Perhaps," and "Daria" demonstrating the more bitter and sarcastic side of CAKE. "Frank Sinatra" and "Sad Songs and Waltzes" help to ground the album a bit, showing a sadder, more melancholy side of CAKE that wasn't shown in Motorcade of Generosity. Fashion Nugget is an amazing demonstration of CAKE's ability to create and perform music, and
Prolonging the Magic was CAKE's first album to take on a much more "country" tone, with heavy use of the acoustic guitar, banjo, and major chords. Opening with "Satan is my Motor," the album pulls back on the use of heavy sarcasm in most songs, but still tends to use their signature bitter tone in "Sheep Go to Heaven," "Never There," and "Cool Blue Reason." "Mexico" and "Where Would I Be" are both more relaxed, and establish the band's ability to write quiet waltzes, giving them an even broader reach than previously seen. Prolonging the Magic fails, though, in its unity in general, and struggles to hit the same mark as Fashion Nugget.
CAKE's departure into more electronically-based music in 2001's Comfort Eagle is similar to Motorcade of Generosity, in the sole sense that the album is incredibly hit-or-miss. "Meanwhile, Rick James…," "Short Skirt/Long Jacket" (later known for its use as the intro theme to NBC's Chuck), and "Love You Madly" all help to prove that CAKE could have a future with the integration of electronica into their portfolio. But, "Opera Singer" throws this point into a loop, opening with what resembles a typical drum line to something found in Apple's free garageband app. Comfort Eagle is a push in the right direction for CAKE's debut into the new millenia, but is once again restrained by the album's weakest songs.
Showroom of Compassion helped to once again bring CAKE into the national spotlight, with Billboard 200 hits like "Sick of You" and "Long Time." Once again diversifying their portfolio, CAKE uses a traditional piano several times on this album, in "Teenage Pregnancy," "Italian Guy," and "Bound Away." Showroom of Compassion is CAKE's most political album by far, proved by both "Easy to Crash" and "Federal Funding." "Mustache Man" and "Sick of You" definitely send CAKE back to their basics, and proves that they are still able to create hits like "The Distance" and "Rock 'n' Roll Lifestyle."
CAKE recently announced their plan to release a set of singles throughout 2018 and 2019, beginning with "Sinking Ship," released publicly just last week. "Sinking Ship" is outright political, and does not even attempt to shroud the personal political views of John McCrea. The band recently finished their tour across the country for progressive, Democratic representatives in the 2018 election in Geneva, performing at Evenflow on State and 3rd for candidate Lauren Underwood.
CAKE has left an impressive influence on the progression of modern music throughout the late 1990s and into the new millenia. Overall, their use of the trumpet along with several other unique instrumental combinations has allowed for them to stand out among many other alternative bands, and truly develop without losing their original voice or tone.