8 Things to do This Spring break
Hang on for a minute...we're trying to find some more stories you might like.
Spring break is one of the most anticipated weeks of the school year. With the luxury of having an entire week of school off, many students go on vacations to warm places such as Florida or Mexico. However, if lying on a white sand beach isn't part of your spring break plans this year, there are still dozens of fun and (relatively) cheap things that you can do around town for the week. Instead of scrolling through Instagram for the 12th time that day watching your friends have fun in Cancun, here are some mini-adventures you can go on yourself or with friends.
1). Starved Rock- On a nice day you can visit Starved Rock State Park in Oglesby, IL, which is about an hour and a half drive from Geneva. The only money you may need for this trip would be gas money, but other than that admission into the park is free. Though the trees may still be bare, you can still hike around the infamous sandstone canyons and through the wooded forests that surround them.
2). Chicago- We're lucky enough to live close to one of the  greatest cities in the country: Chicago. You can simply catch a train into the city, which would be about $8 both ways with a student ID, and go explore the city. It's sometimes more fun to go down without a plan and to just wander the parks and shops, from small record stores to the big retail stores like Macy's.
3). Museums- While on the topic of Chicago, you can visit some of the best museums in the state. Some of these visits may be costly, as some tickets range from $20-30 even for Illinois residents. Also, on Thursday's the Art Institute admission is free for all Illinois residents, which is much nicer than the usual $22 fee.
4). Visit another town- To the west of Geneva is the town of Elburn, as well as countless other small townships such as Campton Hills and Sugar Grove. You'd be surprised how many hidden antique, thrift shops and restaurants are in these cities. Driving to another town, or biking if you don't have a car or license, is a great way to meet new people and find new things to do.
5). Go to a local concert- While Chicago may not be too local, it's still close enough to catch a train and go to a concert for some lesser-known bands. Some of these tickets happen to be really cheap, ranging from free to $20. However, some venues have age limits of 21+ or 18+ depending on where it is.
6). Exercise-  As cliche as it sounds, exercise is the best medicine. Going on a run, or even just taking your dog on a walk is a great way to feel better. Also, you could take up a yoga or kickboxing class if running isn't your cup of tea. This can be a good time to finally get started on those New Year's resolutions, even if it's three months late.
7). Visit Historic Sites- Many homes in Illinois were built in the early 19th century, and some are still standing today. These homes are open to the public, from no price to as little as $10 per person. If you're looking to stay local you can check out the Fabyan Villa Museum in downtown Geneva, as well as the Japanese Gardens on the property.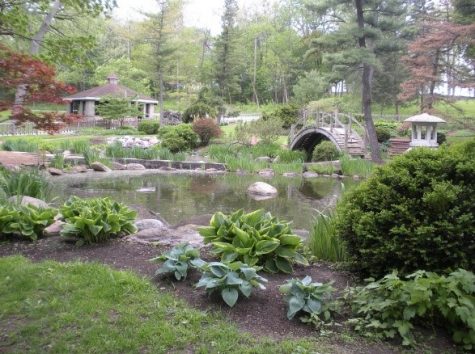 8). Go to a sports game- Another benefit to living so close to Chicago is the close proximity to the professional sports stadiums. The Blackhawks are in season right now, but if you're looking for a cheaper alternative you can visit a friend's sports game and cheer them on.
No matter what you do this spring break, make sure you don't sit around wasting your time on your social media feeds. It can be tempting to fall into the routine scrolling, but that will only bring more boredom and jealousy. Spring break is a great opportunity to rest and do new things that you've been wanting to do all year.