Geneva's first Adopt-A-Veteran project successfully donates to veterans in need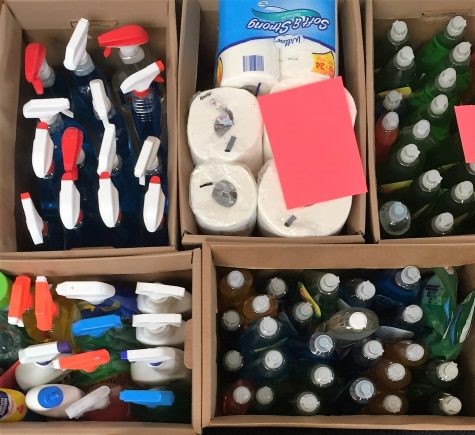 Hang on for a minute...we're trying to find some more stories you might like.
Geneva's first Adopt-A-Veteran project successfully donates to veterans in need
In light of Veterans Day, the Vasilas family and Leos Club sponsored a mass donation within Geneva High School that successfully collected more than 1,000 individual products and more than 70 personalized notes for homeless veterans.
When asked how it all started, the Vasilas family explains, "My family and I try to do something nice for people that are less fortunate than us at least once a year. This year our hope was to start a fundraiser for veterans, that would continue every year."
The charity of their choice, the Midwest Shelter for Homeless Veterans, serves veterans in seven counties across Midwestern Illinois.
When asked to explain the shelter's mission statement, Director of Development, Yvonne MacDonald-Hames, says, "MSHV provides housing and supportive services to homeless and at-risk veterans and their families to help them reach self-sufficiency".
The Vasilas family quickly realized they could not undertake the massive project alone. To maximize their efforts for the veterans, the family contacted Leos in hopes of working alongside the club.
Cassie Longo, Leos club president and junior at Geneva High School, explains how the donation boxes were set up, "We placed a box in every classroom with our supply wish list attached, then we gather up all the items we receive as a community".
Adopt-a-Veteran flyers
As flyers went up, soap and t-shirts poured in and the week went on, it became clear to faculty and students alike that the donation would help many more than a few veterans.
Mrs. MacDonald-Hames says, "The donation from Geneva Community High School of over 1,000 products will go a long way to replenish the Freedom Commissary, which has served over 400 veterans to date this year…Our Freedom Commissary, which provides household items, furniture, personal care items, food, clothing and basic necessities, operates entirely on donations."  
Students were able to see the impact of their work while walking out of school out on Veterans Day.
Cassie Longo says, "After the collection date there will be a loading and delivering day where students can have the opportunity to go to the shelter and see how they have positively changed many lives. This is a great opportunity to help a community of people that have helped you in ways you do not even know."
A few of the 1,000 items donated
The donation, while impressive, went farther than just collecting items and helping the veterans.
The Vasilas family says, "We not only helped veterans in need, we helped a younger generation to see, understand, and gave them a new respect for the men and women who have protected us, who protect us now, and the ones who have given their lives to do so".
After a successful donation, the Vasilas family and Leos Club looks forward to another event next November.
If you are interested in volunteering with the Midwest Shelter for Homeless Veterans, Mrs. MacDonald-Hames says, "There are always volunteer opportunities available.  We always have positions available in the Freedom Commissary.  Please contact John Dixon, Volunteer Coordinator at 630-871-8387 for more information."