Boots Through the Ages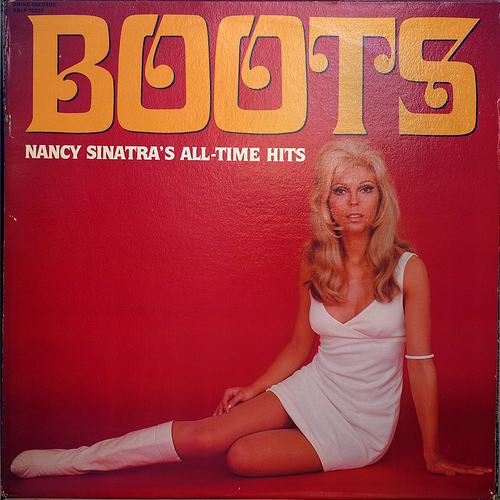 Boots certainly are a fashion trend that have evolved with each era.  Nonetheless, boots have had a pivotal role in women's fashion for centuries. Of course, over the years new styles for have come and gone.
Let's take a look back through the ages to see how these boots have changed with the times.
1910: Women were wearing heeled boots that had either buttons or laces starting mid-foot and continuing up to the top of the shoe.  These boots were made with leather and cloth.
1920: The popular boot of the time was the galosh, a shorter boot made of water-resistant material and a flap in the front that could be buckled and unbuckled.
1930: The boot of the day was a tall, brown leather combat boot complete with criss cross, tie-up laces.  The Great Depression hit during the 1930s, which explains the plain style and practical use this shoe had.
1940: Boots looked similar to those of the 1930s, with World War II being fought, women helped the war effort at home, which left little room for new boots.  So, the durable, lace-up leather boot remained a staple.
1950: Rain boots came into style in the 1950's that are similar to Hunter Boots today.  They even had an assortment of colors back in the 50's! Additionally, warmer lining in boots became trendy for winter boots.
1960: The iconic boot of the 60's was definitely the go-go boot.  These were typically white, made of plastic or vinyl, with a chunky heel.   Go-go boots became a major trend after Nancy Sinatra, a singer, wore them.
1970: Platform boots are in!  These had a chunky heel and sometimes a lift underneath the front part of the shoe, and were usually made of leather.
1980: Short, pointy-toed boots are the style of the day.  Typical of these short boots was a bright color, like red or pink, having a wrinkled look to them.
1990: Black leather tie-up boots, or combat boots, are part of the Grunge Phase.
2000s: In recent years, Ugg boots have soared in popularity!  These are made short or tall, but are always lined with sheep fur.  Conservative, one colored styles to boots covered in glitter are all part of this fad.
Soft suede boots with thin strings and fringe were trendy from 2000-2010, not to mention the return of combat boots.