Predicting the 2020 Oscar Winners
Well, well, well! Award season is back in full swing, and I'm back to share my predictions once more for the big winners (and losers) of the capstone to the award season: The Academy Awards. From the films, the drama, the stars, and the snubs, the Oscars are the end to an impressive year of Hollywood cinema, honoring the best of the best. Here are my predictions for who will be taking home the golden statues this year.
Best Actor in a Leading Role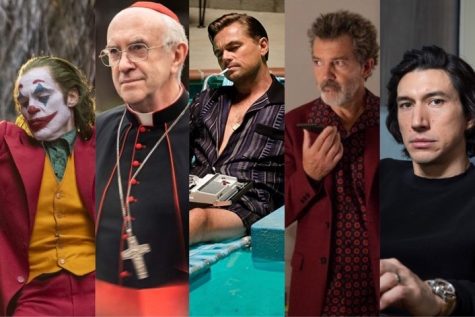 Joaquin Phoenix, Joker
Jonathan Pryce, The Two Popes
Leonardo DiCaprio, Once Upon a Time… in Hollywood
Antonio Banderas, Pain and Glory
Adam Driver, Marriage Story
A pope, a father, an actor, a director, and an infamous villain walk into an award show…
While it may sound like the start of a cheesy joke, this year's nominees for best actor are each talented in their own ways, but only one will win. Personally, I would love to see Adam Driver receive an award for his emotional role in Marriage Story, although he has yet to win a major award for this role this awards season, and it's unlikely he'll pick up an Oscar. This award season, there's been only one actor who has swept this category at the major award shows, from the Golden Globes and BAFTAS, to the Critic's Choice and Screen Actors Guild Awards. Since these shows are typically a precursor to the Oscar winners, then it is safe to say that Joaquin Phoenix will be taking home the Oscar for his titular role in Joker. Phoenix embodies darkness in his portrayal of Arthur Fleck as he spirals towards his breaking point and into the Joker, in a role that is equal parts impressive and haunting. There isn't a doubt in my mind that he won't win this award.
My Prediction: Joaquin Phoenix, Joker
Best Actress in a Leading Role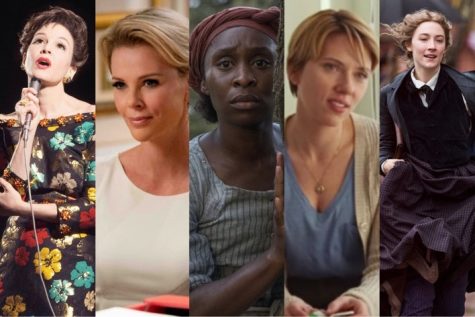 Renee Zellweger, Judy
Charlize Theron, Bombshell
Cynthia Erivo, Harriet
Scarlett Johansson, Marriage Story
Saoirse Ronan, Little Women
With the best actress category, as well as all of the acting categories this year, there has been one actress that has been sweeping this category at each show: Renee Zellweger. Her transformation into the beautiful, talented, and iconic Judy Garland is award-worthy from the start. From the singing, the outfits, to the spot on hair and makeup, Zellweger perfectly portrays one of Hollywood's biggest stars with poise. Each performance in the category is noteworthy and unique, representing just five of the many talented leading ladies this award season. In this case however, Renee Zellweger has my prediction.
My Prediction: Renee Zellweger, Judy
Best Actor in a Supporting Role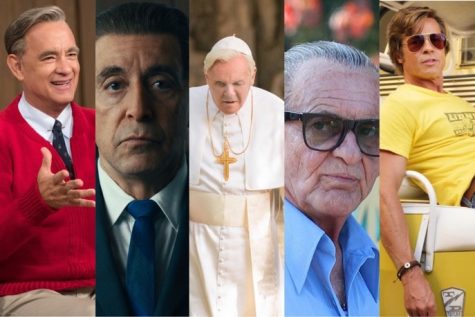 Tom Hanks, A Beautiful Day in the Neighborhood
Al Pacino, The Irishman
Anthony Hopkins, The Two Popes
Joe Pesci, The Irishman
Brad Pitt, Once Upon a Time… in Hollywood
Once again: Welcome to the category sweep! Even with two nominees from Martin Scorsese's mob drama The Irishman, it's highly unlikely anyone will win in this category besides for Brad Pitt, who has swept at the SAG, Critic's Choice, BAFTAs, and Golden Globes. Starring as the washed-up Leonardo DiCaprio's stunt double in Once Upon a Time… in Hollywood, Pitt walks into the role of Cliff Booth wonderfully, venturing through Hollywood with his best friend with an easy-going spirit and humor. I feel bad as I write this analysis, however, as I didn't realize The Two Popes was a movie until I saw Anthony Hopkins nominated for it. So, needless to say, Brad Pitt is taking the Oscar home.
My Prediction: Brad Pitt, Once Upon a Time… in Hollywood
Best Actress in a Supporting Role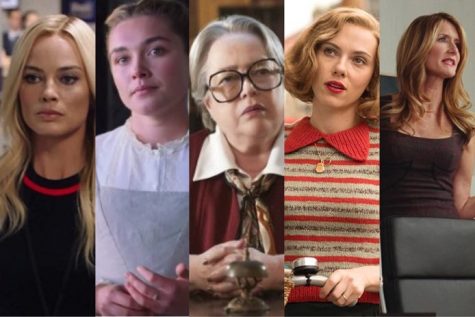 Margot Robbie, Bombshell
Florence Pugh, Little Women
Kathy Bates, Richard Jewell
Scarlett Johansson, Jojo Rabbit
Laura Dern, Marriage Story
Have I mentioned the category sweeping this year? With the sweep of all four major award shows before this, Laura Dern is a force to be reckoned with, both in this award season and in this movie. Playing a determined and radical divorce attorney in Marriage Story, Dern represents her co-star (and fellow nominee) Scarlett Johansson in a bitter divorce battle, pushing the limits on rights and representation. Needless to say, her acting is amazing and I loved this role for her, although I was thoroughly impressed with Scarlet Johansson in Jojo Rabbit and Florence Pugh in Little Women, as starkly different as these roles are.
My Prediction: Laura Dern, Marriage Story
Best Director
This is a very tough category for me to predict, solely on the fact that I have not seen every movie nominated, and there was an unprecedented tie for this award at the Critic's Choice Awards. While Hollywood loves Quentin Tarantino, I have a feeling Tarantino will not be taking home an Oscar in this category. Rather, previous winner Sam Mendes has my vote for his film 1917. After seeing the success of Birdman in 2014, similarly shot to 1917 through the use of a one-take style, I strongly believe that Mendes will be taking home another best director statue for the impressively framed and beautifully directed movie.
My Prediction: Sam Mendes, 1917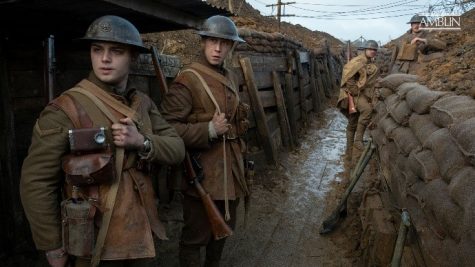 Best Picture
Nominees: Ford v. Ferrari, The Irishman, Jojo Rabbit, Joker, Little Women, Marriage Story, 1917, Once Upon a Time… in Hollywood, Parasite
This year, nine films are nominated for the night's most coveted award, all drawn from diverse genres while lacking in actual diversity. Despite the nine nominees, this award season has honored only three films for this category at the major award shows: 1917, Once Upon a Time… in Hollywood, and Parasite. And if I'm being honest, any of them could win this award. Statistically speaking, 1917 has the best shot after receiving this award at the Golden Globes, BAFTAS, and Directors Guild Awards, with the latter being the most accurate predictor of the best picture winner in recent years. Meanwhile, Parasite made history by winning at the SAG Awards, becoming the first foreign language film to win best picture at that award show, although it is worthy to note that 1917 was ineligible to be nominated at the SAG Awards.
But if there's anything to note about the Academy, it's that they love themselves, which is why a part of me believes that Once Upon a Time.. in Hollywood has a very good shot at winning. Hollywood loves to see movies about Hollywood on the big screen, and this Tarantino flick is the perfect film for the Academy to see. Ultimately, however, I have to go with my gut, and my gut is telling me that the epic one-shot movie 1917 will be walking away with the best picture award. It's a powerful movie about brotherhood, determination, and the brutality of war that leaves you walking out of the movie theater emotional and ready to take on anything life throws at you. For that reason, 1917 earns best picture in my eyes.
Mr. Boulter's Pick:

"1917 is a Sam Mendes film about World War I where two British soldiers receive direct orders from the general to go to the front lines to deliver a message that 1600 British soldiers will be running into a trap. In the process, the two encounter numerous life threatening events. This is an outstanding film directed extraordinarily well making it seem like it is one entire camera shot which allows you to vicariously view what it was like there keeping you tense and engaged through its entirety. Featuring cameos from Colin Firth, Benedict Cumberbatch, and Mark Strong, this well acted, well filmed movie along with its excellent special effects and cinematography is my pick for best picture. It is an A+."
My Prediction: 1917