Wax is made for candles
October 13, 2015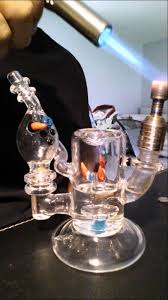 Bowls. Bongs. Butane torches? Some students in Geneva High School have recently started using a synthetic wax-like form of marijuana called "dabs". Although the number of teens using this drug is rising, the knowledge about the issues this drug causes is dwindling.
Dabbing is a wax form of Butane hash oil that in order to be smoked has to be lit with a butane torch and stirred with a titanium nail. Now, this doesn't even seem very healthy when said out loud, but these actions seem to be a daily occurrence all over America.
Although marijuana is certified for recreational use in some states, it is not legal nor lawful for people under 18 to use it. It's not even legal in Illinois, yet many people get away with it.
The attraction to this new form of marijuana is the price, the accusations of being "healthier", and the high. According to an anonymous GHS student source, "With dabbing, it's a little cheaper and you get higher", he said, "It isn't more dangerous than marijuana, it's actually safer for your body".
However, inhaling the amount of concentrated THC in dabs is actually very harmful for your body.
Also, since dabs are not regulated or manufactured through ethical means (just like hard drugs- cocaine, heroin, etc.), there could be any other amount of substance mixed into the dabs themselves, causing overdose and even death.
Using dabs is the only known source of causing a direct marijuana related death, showing that it is not "less harmful" than marijuana. In order to extract the THC from the plant, makers actually use butane, which can be very dangerous to the maker and the lungs of the users.
And, according to complex.com, dabs are actually more expensive than the marijuana plant, ranging from $70 to $100 per gram.
According to Officer Brad Jerdee, "There has been an influx of vaporizer interns and arrests due to the fact that vaporizers have been used to assist with dabbing and using hash oil and other substances not as common as cannabis has been in the past."
This method makes it "easier" to conceal and carry, but if found with the wax, the consequences are quite high (no pun intended). People who use dabs think that this form of marijuana doesn't smell, but it does, which is how more people get caught than not. "It's been difficult for us as law enforcement to enforce the rules and have some sort of morality behind them where kids actually feel what they did was wrong."
Not only is this peaking at the high school level, but also the college level. A student of University of Illinois computer engineering school, who has asked to remain anonymous, said he has dabbled in this area of drug. "It's a pretty big drug scene, especially at a party school like mine, but mostly just alcohol. I've done it, but I think alcohol is even worse," he said.
However, in college a lot of other drugs are introduced that are equally as harmful and equally life-threatening.
According to Officer Jerdee "When we (the police) make those arrests. A lot of times they feel like they were not doing anything wrong or targeted, the victim mentality here… 'Why're you coming after me?'… Would I like education to help? Absolutely, but kids are always going to drink, they're always going to do drugs, we're an instant gratification society."