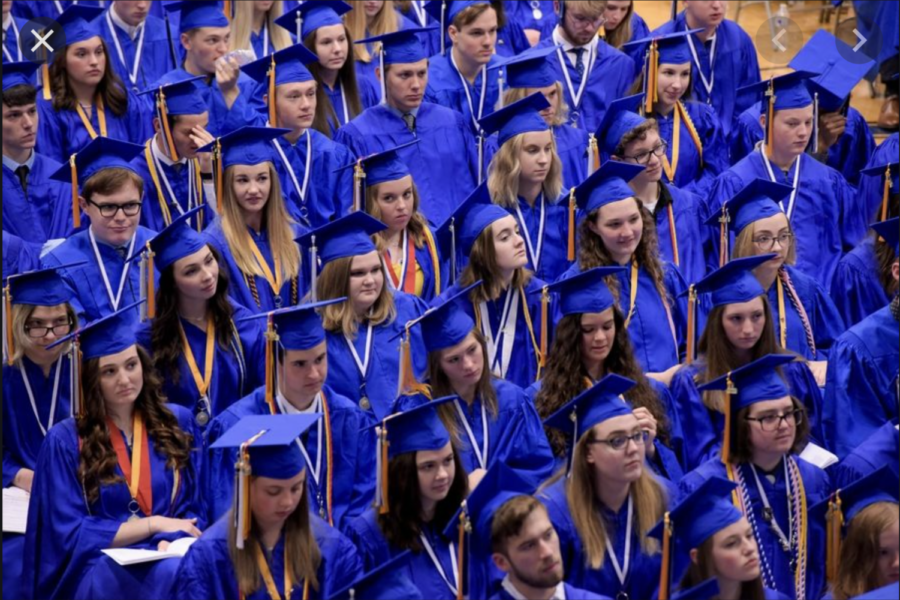 With COVID-19 restrictions slowly easing up and vaccines being distributed across the country, seniors this year are looking for the events that they have missed out on.
Geneva High School has released information that the graduation ceremony this year for seniors will be held on June 6th at Northwestern Medicine Field, also known as the Cougars Stadium.
Last year for the class of 2020, graduation may have not been ideal for most, driving by the front doors and picking up their diplomas one by one. The drive through method was intended to keep students and staff safe from COVID-19, yet this year there is a light at the end of the tunnel for seniors.
In an email sent out to students and parents, Principal Tom Rogers recorded a video explaining the plan to have a safe prom experience and graduation for the class of 2021. The email also detailed information on yard signs for purchase and the yearly senior breakfast, telling students and parents to "stay tuned for more information."
Seniors in the class of 2021 are all around relieved for the opportunity to have a ceremony for graduating. Aidan Depierre, senior at Geneva High School said, "I would rather have the outdoor graduation at the Cougars Stadium than the normal graduation. My hopes for graduation are that we can have a good and safe time, and that everyone enjoys the experience,"
This follows the stress that teenagers have been building up since the very start of the pandemic in March. While most students are adjusted to the hybrid schedule, an event for students to be in person and graduate with their family and friends will be a great opportunity.
Other students such as senior at Geneva High School Devin Coombs look forward to seeing the friends that have been switched to an opposite day at GHS, due to the hybrid schedule and trying to maintain social distancing rules.
Most graduations are focused on the accomplishment of getting that high school diploma, and with the past year being so hectic, this year may be a bit more focused on hosting an event that feels normal to students and parents.
Teachers and students alike were very happy to hear the news about graduation at the Cougars Stadium. English teacher Brian Burns shared his thoughts on being able to host the ceremony outside for the first time.
"From a teacher's perspective, this planned ceremony is great. Most of us will be fully vaccinated by that point, so we will be comfortable participating in, or watching the ceremony." With COVID vaccinations on the rise, graduation is just one of the events to come that will be a less stressful, fully in person experience.
This type of experience is so important for the class of 2021, after a high school experience that has lacked so many of the normal activities for seniors. The graduating class missed out on a potential prom last spring in 2020, as well as fall football games, homecoming, and, originally, senior prom.
GHS English teacher Brian Burns knows how much they lost saying, "On a daily basis, the best times are had while sitting around the lunchroom with friends, gathering in the commons before school, hanging out in the front row at football games."
All these simple things are something that the class of 2021 has lost. For safety reasons, lunchrooms are all split up into sections with specific socially distanced seats for all students. Students are not allowed to gather in the commons due to social distancing rules, and of course the fall season of football was cancelled long ago.
The importance of this loss will sit with this class for a lifetime, which is why these upcoming events, including graduation, mean so much to the class who lost everything in terms of an eventful and normal senior year.