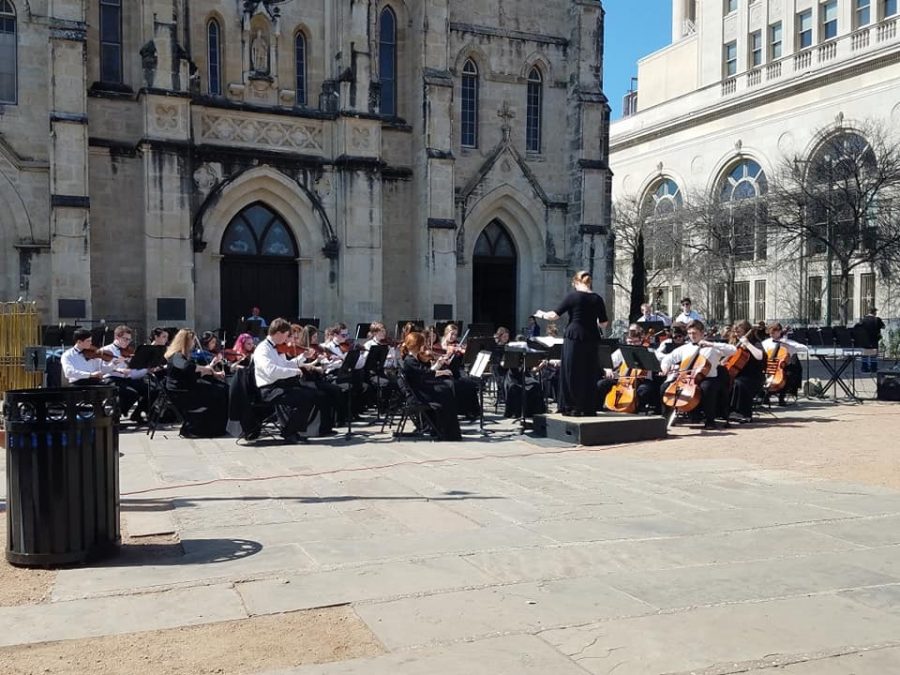 Recently, the GHS Orchestra, Symphonic Band, Wind Symphony, and Twirlers visited both San Antonio and Austin for performances and classes. As a violinist in the GHS Orchestra, I went along on the journey to Texas, and interviewed a few classmates on their favourite experiences and events of the trip.
The orchestra's lesson at Trinity University with Dr. Joseph Kneer was fantastic, and helped us to better our style and sound on several of our pieces. Both GHS bands also had great classes with their directors. Symphonic Band percussionist Collin Weber said that these master classes "really unified our sound, and taught us new techniques." The professional commentary on our skills and performances improved our unity as a group, and resulted in better performances in every one of our venues.
Emily Wolf, a chamber orchestra violinist, commented that, "Our performance in the rotunda at the Texas State Capitol was the best I've had in the four years at the high school." I would definitely agree that not only was the orchestral performance in the capitol building stellar, but that the acoustics of the rotunda helped to amplify and widen our sound as a group. The Symphonic Band and Wind Symphony performances in the rotunda were also some of the best band concerts that I have ever heard, from both an acoustic perspective and their incredible performance.
Along with our performances in the Texas Capitol Rotunda and San Antonio Cathedral Square, we also visited several Texan landmarks, like the Alamo, the riverwalk, San Fernando Cathedral, the Tower of the Americas, and Mount Bonnell. Aaron Dewey, a Wind Symphony Bassoonist, told me, "My favourite part of the trip was the visit to the LBJ museum, as I am a huge history nerd, and at this point in the trip, I realized that I had to come back to Texas to see more." The LBJ Presidential Library and Museum was very interesting, including several large exhibits dedicated to his life and work, a memorial area for the Vietnam War, and even an animatronic replica of the president himself! Right in the middle of UT at Austin, the library also gave us a quick glimpse at the college's campus. Overall, the LBJ museum, along with several of our other landmarks in Texas, helped to teach us about the importance of Texan culture, history, and society to the rest of the USA.
Ms. Lawrence, when asked about our performances and our time in Texas, said that "There was a lot of trust between the students and their directors, which, along with lots of practice and hard work, resulted in several great performances and improvement in all of our groups." Looking back on the trip, I would completely agree that the trust between the students and our directors and our hard work paid off, and resulted in some incredibly memorable experiences.