U2: The Political Rockstars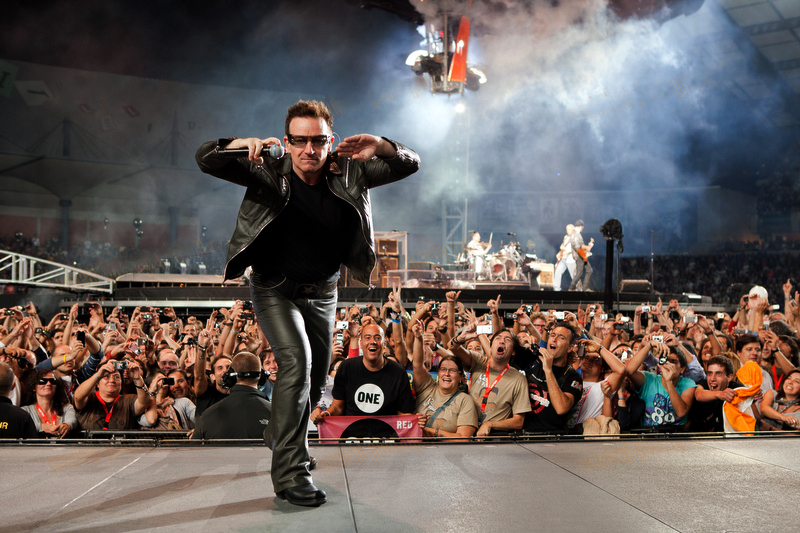 Ethan Bryant, Staff Writer
October 25, 2018
42 years ago, Bono, The Edge, Larry Mullen Jr., and Adam Clayton formed a legendary band called U2. U2 has been named the best Rock n' Roll band from the northside of Dublin, having won 23 Grammy Awards, and nominated into the Rock n' Roll Hall of Fame; however, even with their success, their famous name is starting to disappear.
Since 2014, their newest albums have been heavily criticized by the public. In fact, their second newest album is currently considered the worst album up until now. Critics critiqued Songs of Innocence not only because of the "not new enough" sound that they produced, but what they considered to be the best song off the album, "Crystal Ballroom", was only available on vinyl. Apart from that, audiences and the general public were outraged that over 500 million received the album for free from iTunes and were outraged that Apple had "invaded their privacy."
As for their newest album, their three big songs, "You're the Best Thing About Me", "Get Out of Your Own Way", and "American Soul" did not gain any traction. "You're the Best Thing About Me", with it's crunchy guitar line and catchy lyrics, was released on September 6th as the album's first single. The public received it very mildly, mediocre at best. "Get Out of Your Own Way" was supposed to be a rebuke against the 2016 election of our current president Donald Trump. Instead, they stole the exact drum from their Grammy winning song "Beautiful Day" and the song overall contained very boring lyrics. "American Soul" was just… disappointing. It had a chorus that not only didn't match the song, but was very uninteresting. It tried to be a protest against immigration. Instead, it turned out to be a weak fifth track. Despite that, U2 has been able to make billions.
In the last four years alone, U2 has gone on three world tours, two of which went with their two newest albums, Songs of Innocence and Songs of Experience, and one of which was the 30th Anniversary for their biggest album, Joshua Tree. With these tours came billions of dollars from millions of fans around the world that had come to see the famed U2 perform. But there is method to the fans madness: a U2 show is always a sight to see.
I have been given the benefit of seeing four U2 shows in my lifetime. One show was with their Songs of Innocence Tour in 2015, and this tour was very unique to them. The album dove into their youth, back to the streets of Dublin. Songs like "Iris (Hold Me Close)", "The Miracle (of Joey Ramone)", and "Raised By Wolves" took on a new power live. "Iris (Hold Me Close)" is a song devoted to Iris, Bono's mother that died when he was only 14 years old. Heartfelt lyrics like, "I've got your life inside of me" became a cry out to the grave begging her to come back. This became an anthem for the concert let alone the album. Instead about calling out to the grave, the song became one about calling back to their youth when they were young and innocent. "The Miracle (of Joey Ramone)" became an opening for a terrific show. The song was written as a tribute to Joey Ramone, the first concert Bono ever went to. Being at a concert, the song was a fun show opener. "Raised By Wolves" was perhaps one of the more political songs they wrote and performed. A cool rhythmic clapping noise Bono created and a constant ringing guitar is what "Raised By Wolves" was. At least, that's what it was on the album. Live, the song was still a powerful protest against the civil war in Ireland that had been happening while they were growing up. Car bombs, uprisings, and gun violence were littered all over Ireland at the time; however, during the show, a politically charged song was instantly leveled up with pages of Psalms falling down on the audience. The pages added a new potent political punch, and easily became the best performance of the night.
Another show that I have been given the opportunity to see was the 30th Anniversary Tour of Joshua Tree. Out of the three I've seen, however, this one was my least favorite. This tour was more than meets the eye, but keep in mind that this tour was put together right after the 2016 election. Songs like "Exit" became bold statements against Donald Trump. "Exit" was originally a song about a madman on a killing spree. Instead, they found a clip of an old movie called Wise Blood in which a man named Trump was urging town citizens to build a wall to keep other people out. Sound familiar? Added lyrics for the live show,"Even the hands that build, will also tear down." These lyrics can be interpreted as the hands that build a wall on the border of Mexico will also destroy the U.S' public credibility. A powerful statement became the centerpiece to the show.
Another song that U2 played was the deep cut "Ultraviolet (Light My Way)." One critic put it as, "A lyrical gem that brilliantly finished the show." This song was one of the few songs that closed the show on a regular basis. "Ultraviolet (Light My Way)" was a song dedicated to women. The slogan they chose to project on the screens while they were performing was a quote from Jim O'Rouke. "Women of the world take over." This song became one of the highlights of this tour, protesting in favor of the #MeToo movement. Overall, this tour was not my favorite; however, when you look at the overall message of the show, this shows people the real U2. A band formed for the benefit of giving you a piece of their mind through strings, amps, microphones, and the occasional megaphone.
The most recent tour that I saw was the Songs of Experience tour in 2018. This was easily my favorite show I have ever seen, let alone the best U2 concert I have ever attended. It was so good that I paid my own way and went back for night two in Chicago. U2 had decided to play the deep cut "Acrobat" off of their famed Achtung Baby as well as new songs such as "The Blackout" and "Love is Bigger Than Anything In Its Way." U2 has always been a monster band since the debut of their Joshua Tree album; but because of that, deep cuts such as "Surrender", "Yahweh", and "Daddy's Gonna Pay for Your Crashed Car" are rarely played if even rarely. This was the case with "Acrobat." This song has been a fan favorite since it was available to the public. Some describe this song as a mix between the jangly guitars of the eighties and hard rock of the nineties. A hidden musical, lyrical masterpiece off of Achtung Baby. Making history, U2 decided to play this beauty on the 2018 tour, therefore debuting the song live. Not only did they play it, the lead singer Bono decided to bring back his alter-ego of the name "Mr. Macphisto", or the devil. Before the song was played, Mr. Macphisto took to the stage. He openly mocked political figures such as Donald Trump and his current cabinet, as well as white-supremacist groups like the KKK. In the song, Bono sings, "The truth is dead, and the KKK are out on the streets of Charlottesville without their silly costumes! Ha ha – who'd have thought?! Oh, Chicago… when you don't believe that I exist, that's when I do my best work. Don't believe what you hear, don't believe what see, if you just close your eyes you can feel the enemy!" The quartet then launched with full feeling into the song packing a more-than-large political punch not only to the US government but to the marches happening down in Charlottesville surrounding tough topics such as race and equality. Personally, as a U2 fan, this was my favorite song ever done live by any band I have ever seen. It was an unforgettable performance.
"The Blackout" was the band's first song they released off their new album last year, and it contains a very edgy guitar part with an even stronger bass line. The bass drums thundered along while Bono preached about how America is literally running this country into the ground by singing, "We had it all and what we had is not coming back."  We are losing what has made a country in the first place. Freedom is being taken away by the KKK and other movements like it. "A big mouth says the people don't wanna' be free for free." Along with freedoms being taken, LGBTQ+ rights are being stripped away from people which leads into one of the band's closing songs, "Love is Bigger Than Anything In Its Way". This song became an anthem for the LGBTQ+ community. Strong words like, "Write a world where we both belong to each other and sing it like no other." This song was the second to last song the audience heard both nights, and both nights it was very impactful.
A U2 show is always a show to see. As it will always tell a story throughout the night, this story is one body who goes will ever forgot. From shows about their youth and what it's like growing up, to shows that try to speak their minds and protest against decisions that America has made, and to shows that are dedicated to experiencing too much and trying to get back one's innocence. A long three hours can truly go a long way.