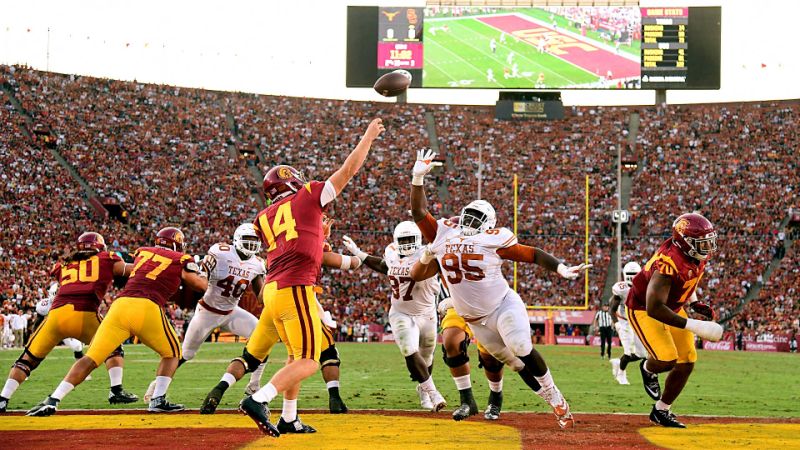 #6: Texas 24, USC 27 (2OT)
In a rematch of the famous 2006 Rose Bowl, this game about a decade later would show where both powerhouse programs were at. Coming into the game, they seemingly could not be more different.
USC had been a popular pick to make a playoff run in 2017, thanks in large part to returning star QB Sam Darnold. After taking over mid-game at Utah in 2016, Darnold nearly led the Trojans to a comeback win, and from that point on they rolled off 9 straight wins to end the season. However, the 2017 USC Trojans came out of the gate sluggish, but survived Western Michigan and Stanford to start 2-0.
Texas has not shared in USC's recent success. The Longhorns have not had much to celebrate since their Vince Young led them past USC in the 2006 Rose Bowl. After Longtime coach Mack Brown retired, Charlie Strong came in and had 3 subpar years, causing the team to pursue young coaching prodigy Tom Herman. Herman constructed a similar rebuild at Houston as Frost did at UCF, and was marketed to be the savior of Texas football. After losing the opener 41-51 at home against Maryland, it was apparent there is still work to do.
However, the game itself did not show this polarization. After a prolonged QB battle between Shane Buechele and Sam Ehlinger in the offseason, the freshman Ehlinger distanced himself with a solid game. The 4th quarter and beyond was a rollercoaster. Ehlinger led the Longhorns down the field to take a 17-14 lead with 45 seconds left, seemingly icing the game. However, Darnold and the Trojans engineered a quick drive to give walk on freshman kicker Chase McGrath a chance for his first career make- a 31-yarder which he handled with ease- and tie the game at 17. Both teams scored touchdowns in the first overtime, and Ehlinger put Texas in position to score again in the second overtime. However, Ehlinger fumbled the ball at the one-yard line, opening the door for USC to set up for a game winning field goal, in which McGrath the second of his career to seal the game.
The win moved USC to 3-0, but the season failed to meet expectations. They would go on to beat Stanford once again in the Pac 12 title, but a road loss at Washington State and getting run out of the building at Notre Dame left them on the outside of the playoff. Their season ended poorly in Arlington, as they lost 24-6 to Ohio State in the Cotton Bowl. With Darnold and star running back Ronald Jones II heading to the draft, USC will have to re-tool in 2018.
As for Texas, the rest of 2017 yielded a 7-6 season with plenty of positive signals, yet plenty of room for development. But the foundation is there. The Longhorns shut down Missouri and their star QB Drew Lock in the Texas Bowl, giving Texas their first winning season since Brown's departure.
#5: Western Michigan 71, Buffalo 68 (7OT)
No, 7OT is not a typo, and yes this is football, not basketball. While it carried no national significance, for the second straight year, this game was rich with #MACtion. In 2016, the undefeated Broncos hosted Buffalo on College Gameday. That was a blowout, but this year, the game was record-breakingly entertaining.
I've referenced college overtime throughout, so I'd like to reiterate how it works. If the game is tied after regulation, another coin toss occurs, and the winner picks offense or defense. After that, each team gets one possess per overtime at the opponent's 25-yard line. If it's still tied, it resets, and whoever started with the ball the prior overtime gets the ball second. In the third OT and beyond, teams must go for the 2-point conversion upon scoring a touchdown.
That process happened 7 times in this game- an NCAA record for number of overtimes in a single game, in addition to the record 139 total points scored. The box score became heavily inflated, as Buffalo QB Drew Anderson threw for 597 and 7 touchdowns, while Western's running back Jarvion Franklin carried the ball 37 times with 3 TDS. There were some off the field antics as well, when one WMU player's sister ran onto the field to celebrate her brother scoring what she thought was the game winning touchdown, prompting her ejection.
In the seventh overtime, Buffalo kicked a field goal to go up 68-65, but Franklin ran in for a touchdown to end the marathon. Looking back, it will be remembered as one of the more unusual games ever played, and made for an interesting story in 2017.