Hang on for a minute...we're trying to find some more stories you might like.
Ever since his knee touched the ground during the National Anthem, he has been the most hated man in football today. He's been leaving mouths open with shock while he's silent and listening to the song that represents our country.
Since Colin Kaepernick started his National Anthem protest in a pre-season game in the National Football League, the protest has not just spread around to
pro levels. The National Anthem demonstrations have started to be contagious at high schools. Coaches and players of the varsity football team have opinions on the current protest.
One of the questions that comes with this protest is if silence brings change. Joshua Mansfield, senior football player at Geneva High School states, "I do think it is the most efficient. It's very effective and even if it fails nobody gets hurt in the process."
Kaepernick and others' protests stand out from other protests. This doesn't involve signs or a mass number of people, they just take a knee and be silent.
Kyle Evert, a senior quarterback, thinks silence can make the U.S worse as a whole. "I don't think silence protest is the best way because it does not give a person's true intentions. Colin said after his protest that he did not mean to disrespect the military but that is the way it was perceived," Evert said.
Even though it's a different type of protest, today's citizens are wondering whether it will bring harm or good to the country. Evert said, "I think this protest will only make things worse. [Colin Kaepernick] picked a horrible time to protest and it only has angered more people across of America."
While people were paying attention to these demonstrations at the pros, teenagers took notice and started to stand up and fight with Colin Kaepernick. Rob Wicinski, head coach of the Geneva varsity football team, said, "Leave the anthem out of it – too much history and pride."
With Geneva's lack of diversity, Colin Kaepernick has experienced problems that Geneva students haven't experienced. "I have never thought of kneeling during the anthem because I believe that the national anthem is bigger than me and not a time to complain about my problems," Evert stated. "I want to respect the men and women that serve this country that give me the freedom to play the game of football," Mansfield said.
If the situation of a Geneva football player protesting during the anthem should arise, then Coach Wicinski knows just how he'll handle it. "I would discuss it with the player and ask him what is his deal. It is very simple in our world – this is about the team – you are part of our team, if the team is standing for the anthem then so are you," Wicinski strongly stated.
If the kids really need to express this demonstration, then Coach Wicinski has another scheme in his playbook. Wicinski stated, "If he really felt strongly, I would advise him to go to the locker room during the anthem – take your knee in there and then come out when the anthem is over."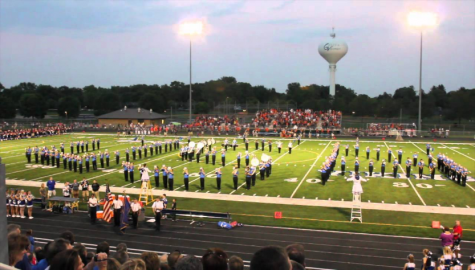 With this just being a cause about a knee touching the field, Wicinski feels the whole focus of the demonstration has changed overtime. "It looks like the story has turned into Colin Kaepernick, rather than his cause – too bad."
From indifference to disagreement, Joshua Mansfield and Kyle Evert state whether they agree with Kaepernick. "I disagree with Colin because I think what he is doing is disrespectful to the men and women that
serve this country that allow him to play football," Evert says.
"I don't necessarily agree or disagree with his choice to sit out during the national anthem, but because I recognize his right to do so and if he feels that that's the best way to bring about change, then so be it," Mansfield states.
For Coach Wicinski, the national anthem demonstrations have no timetable for an end. "Where does the knee end?"